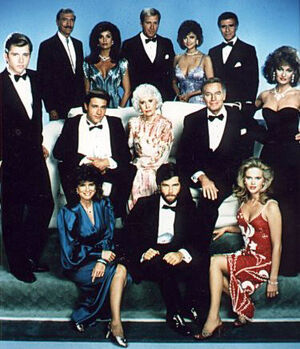 Welcome to New Wiki Name

Edit
On Dynasty, presumed dead heiress Fallon Carrington Colby reappears alive, suffering from amnesia and using the name "Randall Adams". Drawn to California after recognizing the name "Colby", she meets playboy Miles Andrew Colby, not realizing that he is the cousin of her ex-husband, Jeff Colby. A mutual business venture brings the Colbys of California to the Denver mansion of Fallon's father, Blake Carrington.
Set in Los Angeles, The Colbys focuses on the extended Colby family as Jeff relocates to California to start his life anew — and comes face to face with Fallon, now married to his cousin Miles. A fierce rivalry is sparked between Jeff and Miles, and the love triangle spans the series. Miles' father, billionaire Jason Colby, has a rocky marriage to the icy Sable Colby, in part due to his longtime attraction to Sable's sister Lady Frankie Hamilton — Jeff's estranged mother, and the former wife of Jason's brother Phillip Colby, who is presumed deceased. Other characters include Jason's powerful sister Constance Patterson, Miles' twin sister Monica Colby, and their third sibling Bliss Colby.
Latest activity
Edit