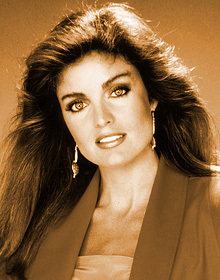 &nbsp
Monica Scott Colby, the daughter of Jason Colby and Sable Scott Colby, is a successful businesswoman, independant and strong. When The Colbys debuted, Monica worked as one of the company's 12 vice-presidents at Colby Enterprises, and was feeling underappreciated. She is seen to be more stabile than her younger twin brother, Miles Colby, who is his confidant.
Eventually, she leaves Colby Enterprises to work for Dominique Deveraux at Titania Records.
Like most Colbys, she is unlucky in love. Her relationship with coworker Neil Kittredge failed as he did not inform her that she was married. When she gave him a second chance, he went back to his wife. Then came Senator Cash Cassidy, who reentered her life. It was discovered that they had an affair years ago which resulted in Monica giving birth to their son. But their relationship failed and being young and scared, Monica gave the baby up for adoption. But what she did not know was that the adoptive parents were Cash and his new wife, Adrienne.
Monica grew close to her son, Scott Cassidy, who rejected her after he found out that she was his biological mother. Monica and Cash, though very much in love, again didn't make it due to his political career. Cash stayed in his bad marriage and he and his family moved away but not before Monica and Scott had a very emotional reunion. It broke both of their hearts to have to say goodbye to one another.
Later, Monica moved to Denver and started working for her mother, helping her bring Alexis down. She spent a lot time with her brother, Jeff Colby. Adam Carrington used this to get back at Jeff by accusing Monica and Jeff of incest. It wasn't true, though Jeff and Monica were attracted to each other, they didn't act on their feelings. Alexis interrupted a fist fight between Adam and Jeff, announcing there can be no incest between Monica and Jeff as they are not siblings.
It was hard for Monica to accept the possible truth that she and Miles aren't Jason's children, but she kept supporting her mother. Neither further destiny, nor relationship with her son and the ultimate truth bout Jason's fatherhood, were not fully revealed in the series.